Unisa Login – How To Login to Unisa and Check your results, Access email, Claim Your password, Submit Assignments etc
The University of South Africa better known as UNISA is a leading Open Distance Learning center. Being a world leader, UNISA is known for its world- class facilities which enable students to mold their futures on their own.
Registration and Login
To study through UNISA, successful new applicants and re-registering students for an academic year must register by visiting UNISA's registration website. 
Taking notes of both the registration dates and cancellation dates.
After choosing your qualification and modules, proceed to calculate your tuition and other fees as UNISA fees differ depending on your qualification, number of modules, etc.
The next step would be to complete and submit your registration
Students are to note that UNISA does not accept cash or cheques at any of its offices. Also, visit www.unisa.ac.za/paymentinfo for banking details.
After receiving confirmation of registration, students are to register on the university's online student portal – myUnisa, in order to download study materials and tutorial letters.
Steps to access myUnisa – Unisa Login
URL: https://my.unisa.ac.za
Click on Claim UNISA login
Click on "Claim UNISA login". This link can be found in the navigation bar on the left side of the screen.
There are 4 steps to this process.
Step 1 of 4: Enter your student number
Only currently registered students (in this academic year) can claim a UNISA Login to access both myUnisa and the myLife email.
Step 2 of 4: Complete your personal information
Click on "Continue" when you have completed the information
Step 3 of 4: Acknowledgement of security responsibility and use
Read the instructions regarding your responsibility to keep your password safe. Click on "Continue" when you have read through all the relevant statements.
Step 4 of 4:
On successful completion, your myLife email address, as well as your initial UNISA password, will be displayed to you.
Note: This password can be used for initial access to the myUnisa Learning Management System, the Library, as well as the myLife email account.
Log in to myUnisa at the top right of the myUnisa homepage by entering your student number and the password you chose when you joined myUnisa. Please note that the password is case sensitive.
Login to myUnisa (Learning Management System)
The top right corner of the screen has two fields, student number and password.  Please enter your student number and your chosen password here.
The password is case sensitive.
Click on "Login"
Login to myLife (Email Account)
There are two fields to complete: account and password.  Your account number is your UNISA email address.
The password is case sensitive.
Click on "Sign In"
Accessing your myLife e-mail account – Unisa Login
To access your myLife e-mail account, please follow these steps:
Go to the https://mylife.unisa.ac.za/
Enter your full e-mail address (eg [email protected]) and your password for your myLife e-mail account.
Select "Sign in".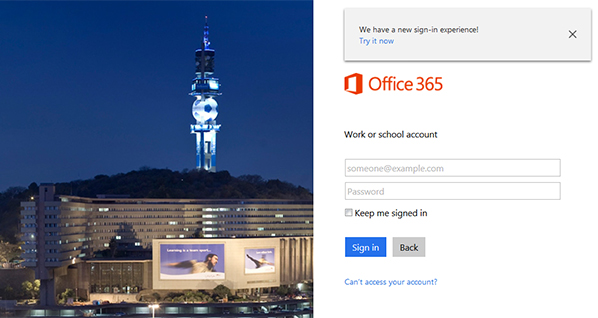 What to do if your password is not active on myLife / O365?
It may be necessary to reset your myUnisa password to synchronise it with your myLife mailbox.
Login to myUnisa and click on "My Admin".
Click on the "Change Password" link.
Complete the form to update your password. Please note that this new password will be active for both your myUnisa and myLife services.

Important information
During peak periods, it may take approximately 30 minutes for the new password to activate on the myLife service. If you are still experiencing problems after resetting your password, please send an e-mail to [email protected] for assistance.