Nelson Mandela Metropolitan University Electrical Engineering, the information provided below are the details about Nelson Mandela Metropolitan University Electrical Engineering
Bachelor of Engineering Technology in Electrical Engineering
BEngTech (Electrical)
NQF Level: 7
Credits: 420
Duration of Study: 3 years full time
Curriculum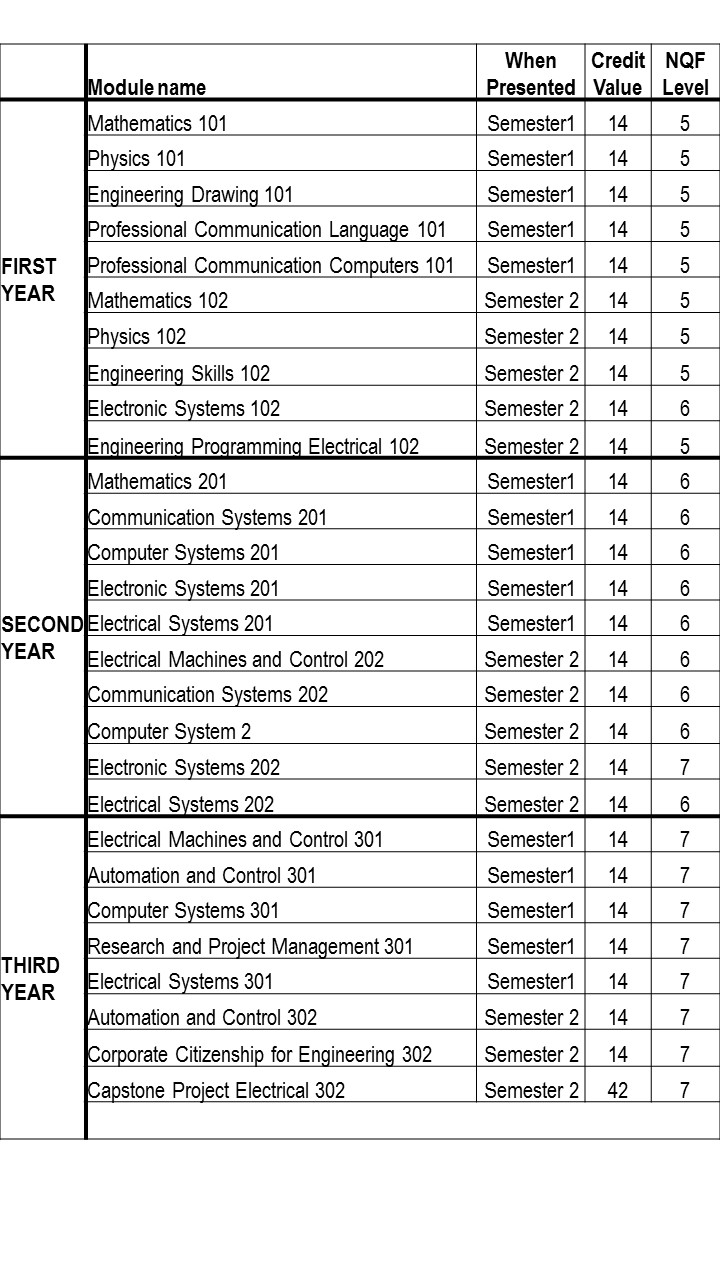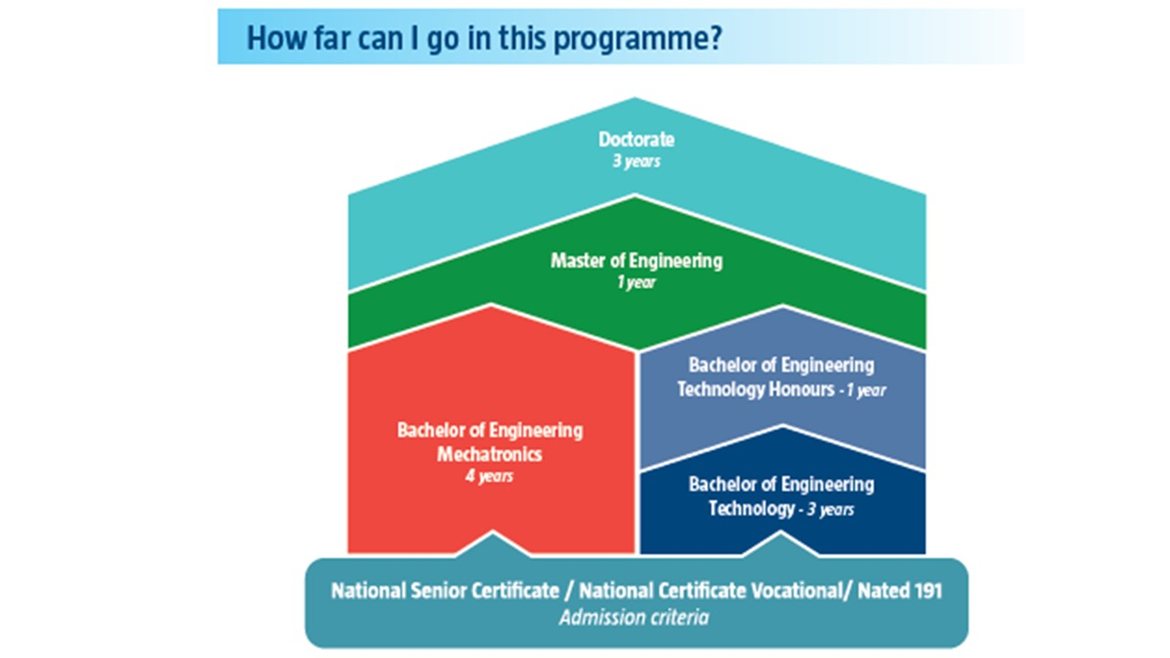 Admission criteria
EITHER
A National Senior Certificate (NSC) meeting the minimum requirements for degree studies with an admission points score (APS) of 36. Add the APS scores of the 7 best subjects according to the National Senior Certificate (NSC) obtained using the table below – these must include Mathematics, Physical Science and English. Applicants with an Admission Points Score between 30 and 35 may be referred to write the Access Assessment Test before a decision is made on whether or not to admit the applicant to the course.
OR
A 60% pass at N3 level for Engineering Mathematics and Engineering Science plus grade 12 Languages from a TVET College.
OR
A 60% pass in the recommended National Certificate Vocational (NCV) subjects in Engineering and related fields at NQF Level 4: 3 fundamental subjects (English, Mathematics, Life Orientation); and the compulsory subject Physical Sciences; and any 2 of the other compulsory subjects.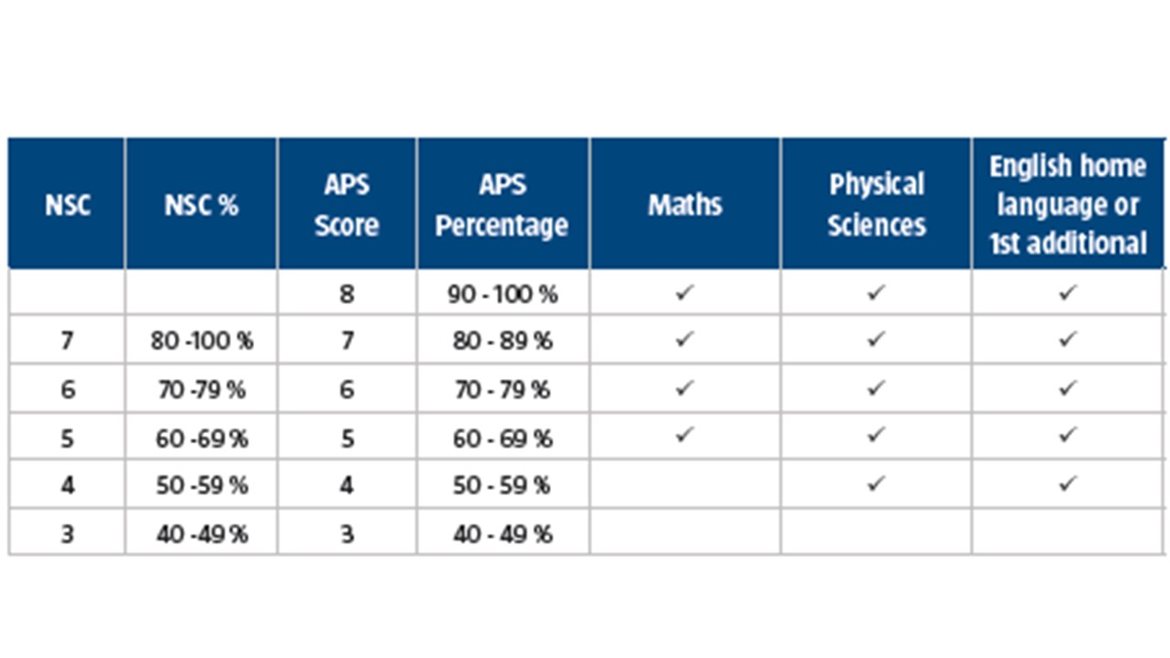 Career opportunities
After graduating with your BEngTech degree, you will find employment relevant to your studied discipline. To fully develop your career opportunities, you must register with the Engineering Council of South Africa (ECSA) as a candidate Professional Engineering Technician / Technologist.
Registration as a Professional Engineering Technician can take place after 3 years and Technologist after 4 years of suitable and documented Initial Professional Development (IPD) in your work place. Once registered with ECSA, professionals must maintain their status by ensuring Continuous Professional Development (CPD) through, among others, the attendance of relevant short courses.
Electrical technicians / technologists are responsible for the design, development, manufacturing, testing and maintenance of electrical, electronic and digital infrastructure. This includes, but is not limited to power generation, transmission and distribution systems, control systems, computer systems, data and voice communication systems, automated robotic systems and medical technologies.
Graduates in Electrical Engineering technology change and improve life by combining electrical, electronic and digital technologies with creativity, taking ideas and turning them into reality. Graduates are not limited to formal employment areas – they also make good entrepreneurs! Apart from this, they may also find challenging opportunities in teaching and/or research. Typical sectors of opportunities for employment include power generation, transmission and distribution corporations as well as government institutions developing infrastructure, computer-technology corporations, manufacturing plants, parastatal and private communication companies as well as process-control and chemical plants.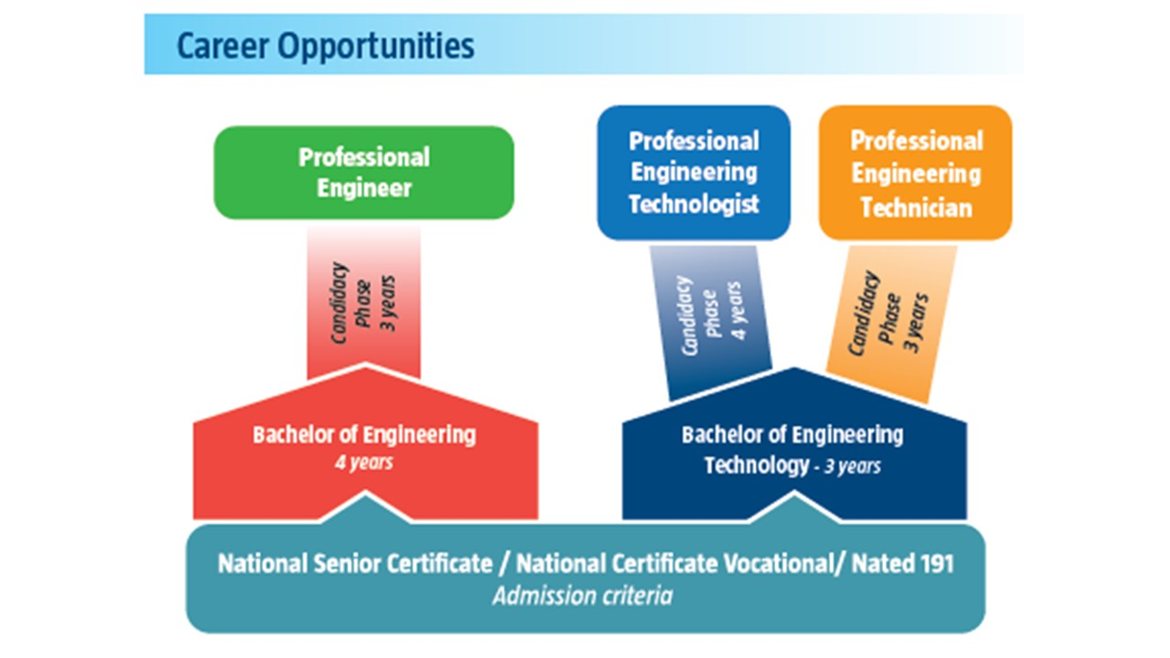 CLICK HERE FOR MORE INFORMATION  ON UNIVERSITY OF NELSON MANDELA ELECTRICAL ENGINEERING